Harmonix senior designer Sylvain Dubrofsky takes some time to chat with USAToday about what we can expect to see with the new Pro Guitar, as well as an extended look at one of the new peripherals.
Some of the key takeaways I found from this:
MIDI out on the Pro Guitar, but the traditional green, red, yellow, blue, orange color coding is gone.
On Pro mode, the game is designed for you to look at the screen to coordinate your fingering, instead of the guitar itself.
As discussed elsewhere, but confirmed here, you are playing the ACTUAL notes on Pro mode.
Easy Pro isn't as hard as you might think. It has been described as a similar experience to learning Guitar Hero/Rock Band guitar for the first time. Learning curve adds in chords in Medium, and progress from there.
Gamespot also had a chance to chat with lead designer Dan Teasdale about the new features in the game, with some very detailed gameplay of Guitar Pro. Take a look… and start exercising your fingers now!
[Thanks Alex and @Kirksplosion]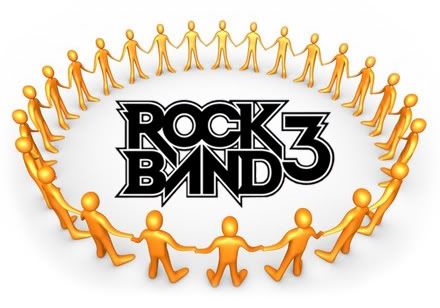 Among all the bright, shiny & new Rock Band 3 announcements this week, one of the many new features that peaked my interest was the VERY brief mention of Social Networking (SoNet) tools.
Social Networking: Rock Band 3 adds social networking tools so you can interact with friends and fellow Rock Band rockers using Facebook, Twitter, and more.
Oh Harmonix, you're such a tease and we all know you enjoy it immensely. What all will this really include though? As more and more games include the ability to link in the mega-social sites like Facebook and Twitter, I think we all can guess (or hope) that this will have some sort of tool to challenge friends and post song scores right into your feeds. The Rock Band mobile game already lets you to connect with friends via facebook as well as post your rank with a challenge of "Can you beat that?" to your friends.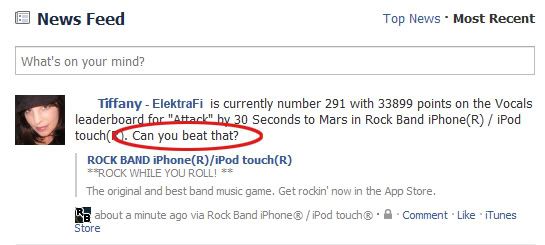 With that in mind, I think it's pretty safe to say that the new SoNet features included with Rock Band 3 will have similar functionality, but only time or perhaps E3 will tell.
What would you like to see included with the Social Networking tools?
Here's a nice little video of some of the gamplay footage of Rock Band 3, as well as a few close-up shots of the Rock Band 3 Wireless Fender Mustang PRO-Guitar Controller. Nothing else jumped out at me, but I'm kinda going in to Rock Band 3 information overload this week. If you find anything else, drop it in the comments and I'll include it here.
[HUGE thanks to @Sumboxcar182 for the vid and pic!]
Based on everything that I've been hearing thus far, it sounds like after Rock Band 2 was released, Rock Band 3 was designed from the ground-up to be the ultimate music game. So far, just about everything the fans wanted in a music game has been included. Here are some of the bigger features and improvements explained.
Player Management
Harmonix has designed a player management tool dubbed "the overshell" for each member of your band. It's a little popup menu where players can set, using their own instruments, their login name, their instrument track of choice, their own difficulty setting, lefty mode, and any other options. This will eliminate the obligatory "Guys! Don't touch anything! Just let me set it up!" during every Rock Band party / bar night. Additionally, the overshell allows drop-in, drop-out anywhere, anytime during the game.
Song Filter and Sorting
The music choice screen has also vastly improved. With so many songs in the library, the devs said, just flipping through titles wasn't good enough. So now there's a filter system. For example, you can choose all songs with five star difficulty for guitars, or all songs from the 80s, or all songs from RBN or Rock Band 2, or all songs with a certain length or all songs of a certain genre. You can then combine filters, as well.
A redesigned song info screen has lots of new information, including past performance stats and even your own custom ratings. Similar to how the Rock Band Network works, the game will also now let you rate tracks using a "lighters" system, from one to five lighters. The point is further personalizing your collection and your experience. Songs rated low will appear in random set lists with less frequency; songs rated highly will appear more often. You can even account for ratings when using the aforementioned filter system.
Based on the filtering method, you'll be able to hide songs you don't want to play, and find songs you may not know about via a song-recommendation system that will "suggest tracks from Rock Band's colossal music library, based on personal fan preference." You'll also be able to save set lists and share them with friends, both in-game and via RockBand.com…
Set Lists
While the ability to create customized set lists was a feature introduced in Rock Band 2, Rock Band 3 takes it to another level. Players will be able to save set lists this time, giving them names, and even logos. Setlists can also be shared online.
Similar to Rock Band 2's "Battle of the Bands" concept, you'll now be able to create your own battles, share them with friends or opening them up for the world to play. This doesn't have to be done from just your console, either, players can create battles online via rockband.com. It'll also be possible to push new battles and other content to friends via social networks like Facebook and Twitter.
Keys
As we've seen, there has been a keyboard added to the game. I still see some people claiming it's a keytar, others insisting it's strictly a keyboard. It can be used both ways, really. For the sake of Rock Band 3, apparently they are just calling it "Keys."
What has just been recently learned is that you don't need to own this standalone peripheral to play the keyboard parts in songs! If you already have a guitar controller, the standard game will support that. On the flip side, guitar and bass tracks can also be played using the keyboard controller (odd, but useful). This may come in handy for those tracks in the DLC library that feature zero keyboard parts.
It should be noted that during the playable demo, the keyboard sat on a stand. It'll be possible to put it on your lap or a table as well. It also appears that you can put a strap on the peripheral… in essence, a keytar.
Drums
A lot of people have been asking about what's going on with the current drumset peripheral, and the answer is basically nothing. HOWEVER… there are additions coming in the form of cymbal attachments, which already exist today. There's going to be more changes from the software side, in that Pro mode will now require you to hit the correct pad or cymbal, as well as additional changes still yet to be announced. The drum pads will still appear square on the lanes, while the cymbal hits will now appear circular, to differentiate. The cool thing is that nearly all of the existing DLC catalog is already authored for cymbals, which doesn't exist with keys and Pro-guitar. The distinction has already been coded into the DLC, but Rock Band 2 hasn't been updated (on purpose) to show that differentiation.
Oh yeah, and that second "mystery" jack that everyone was asking about? That will be by default a second kick pedal jack…or you can switch it to be a hi-hat, which functions in the free-play drum modes or the drum fills. If the song has double-kick, well then so will Rock Band 3.
And if you want to play Rock Band 3 Pro-drums, you'll have to ditch your Guitar Hero drums… it just won't translate (still works in standard mode).
Vocals
What about all you vocalists out there? Is there anything new for you? Rock Band 3 focuses on not just bringing over harmonies, but also revised the note detection and non-pitched vocal parts. New technology added will help people sound a little better and balance out volume and input volume and output level. It also does some pitch correction on your vocals (T-Pain DLC?). I'm expecting talkies to virtually disappear.
Guitars
Your current guitar has 10 buttons. Rock Band 3 is compatible with the current crop of plastic peripherals, as well as adds a new guitar controller with 102 buttons, and one with no buttons. They way songs will be charted for standard mode and Pro mode will basically be note accurate, as well.
Career Mode
In addition to a new Party Mode that offers a Party Shuffle ability for instant song playing with immediate drop-in/drop-out player possibilities, there is also a more long-term Career Mode. Included are more than 700 goals and rewards, with seamless leaderboard integration, for a deep campaign experience. As you meet goals, you earn fans, and having certain amounts of fans opens up new features in the game, like the ability to have a band van, or go on tour in a new area. "It's essentially Rock Band your way," said Harmonix. "You can choose how you want to beat Rock Band."
There are also Road Challenges, described as "Band World Tour meets Mario Party." Instead of putting one band together in a long world tour, you can set the length of a multiplayer experience, and then play through it with your band in one evening. You can tour around town through a six-song playlist, or tour around the East Coast in twenty songs, and you'll have to deal with various challenges like a bored crowd (entertained by deploying as much overdrive as you can) or a panel full of judges, who will be watching your chorus accuracy or a how well a certain instrument is being played.
Pro Mode
This new mode (which applies to guitar, keyboard, and drums) attempts to have players, for all intents and purposes, actually playing the songs, rather than a gem-by-gem simulation of the song's notes.
Harmonix understands that these most difficult modes won't be for everyone, but it's an interesting bridge between simply playing a game and holding a real guitar in your hands. Starting at the easiest level, it's likely that most players (especially those who've played Rock Band guitar on expert) will feel at home. Before they know it, the idea is to get them more comfortable with a real six-string.
"Our perspective on this is to not necessarily to turn people into virtuoso guitar players," Sussman says. "I think the line that we use in the studio is that we want to get you to the point where you can beat out a song at a campfire, and not necessarily jump on stage. But what we've seen in our focus testing is that after an hour of, kind of, trainer development and a couple of songs, people actually come out of that one hour and they have basic guitar chops. I think we're trying to answer the persistent question about music games," he remarks, "as in, 'What the fuck is the point?' You know, for people that have gotten really good at Guitar Hero or Rock Band or whatever, they're not musicians. We're trying to take gameplay in a way that actually pushes people to genuine musicianship."
Simultaneous Worldwide Release
Finally, here's one for our friends overseas: It's getting a simultaneous worldwide release. The press release cites "Holiday 2010 in North America, Europe, Australia, New Zealand and other territories" — and yes, that includes the DS version.
[via Joystiq, Joystiq, Destructoid, and PlasticAxe, @Sumboxcar182]