I was only out at E3 for two days, and while I did try to spend a majority of my time at the MTV Games, booth I did check out much of what everyone else had to offer. While I had a chance to ask Harmonix the questions you guys sent me, there was so much more that I wanted to find out.
I just saw this video (via @toymachinesh) taken from E3 that confirms that keyboard solos will be in Rock Band 3. Didn't expect them to be excluded for any reason, but cool to see visual evidence to confirm.
DLC coming out today include three tracks from punk godfathers The Stooges, and two tracks from fellow punk compatriots Bad Religion. Check out playthrough videos of them below, courtesy of Dogmatic2120! Definitely check out his YouTube page and subscribe!
Links to purchase DLC songs online at Xbox.com are included below for each track. Unless otherwise noted, all tracks are 160 MSP ($1.99). The Stooges 3-pack is also available for 440 MSP ($5.49).
Back when more details about the Rock Band Live amusement park tour were announced, I was excited to see that Carowinds, located near Charlotte, was on the list. I'm only about 35 minutes from Carowinds, so I knew I had to go check it out…and heck, get some roller coaster rides in as well while I was there. Oh and Bumper Cars too! Who doesn't love smashing into unsuspecting little kids?!
So anyway, about an hour before each scheduled show, you have 30 minutes to try out to be part of the show on either the guitar, bass or drums. Being an amusement park, I would say that 90% of the people trying out were under the age of 16. The cast members monitoring the tryouts weren't necessarily looking for skill, shocker I know, but more for personality and stage presence.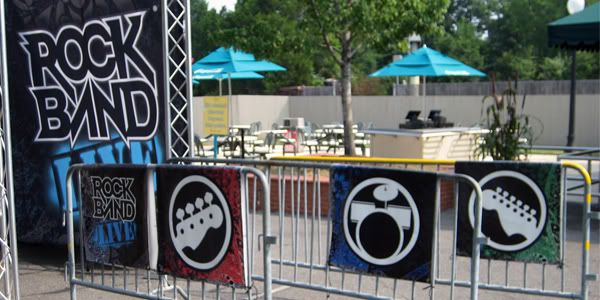 Once the additional band members were selected, they were whisked away to a secret backstage location and prepped for their appearance in the show. The show itself was 30 minutes long as mentioned in the video below. It had moments of humor and overall, given the intended audience, I think it was a great show.
How Rock Band Live Came About
Just keep in mind that the show is not designed for the hardcore Rock Band players. You won't see the new band members actual game stream on the screens behind the stage or even hear them actually playing. What you will see are some crazy outfits, and you'll be entertained by a decent storyline along with a great selection of music from the Rock Band library.
Even though we weren't supposed to take any pictures, I did manager to get some decent shots as well as a video of part of the finale. Sorry the quality is not great. I was using an iPhone and had to hide my camera.
Don't Stop Believin' Finale
You still have some time to catch the Rock Band Live show with the last set of tour dates ending September 6.
Me with Some of the Cast
Check out LOTS more pictures after the jump!
While there still has been no OFFICIAL word (see update below) regarding the release date of Rock Band 3, I'm going to go ahead and call it now. Look for Rock Band 3 to be released on Tuesday, October 26, 2010! (FOUR days before my birthday… just sayin'!) The placeholder date that we have seen of October 31 has been revised in most places (Gamestop, Amazon) to Tuesday the 26th already, when most new titles are released.
As is customary with Europe and elsewhere, expect to see the "simultaneous worldwide release" take three days to arrive overseas on October 29th, similar to how previous titles have been released abroad on Fridays. This makes sense as UK retailers Zavvi and HMV are currently both saying October 29th.
If I was a betting man, expect to see a statement from Harmonix on this VERY soon, as well as possibly a few more songs to add to the existing setlist!
UPDATE 1: Harmonix has now confirmed the 26th as the official release date here.
UPDATE 2: According to ComputerandVideoGames.com, EA has confirmed that Rock Band 3 will be released in the UK (and presumably, all of Europe) on October 29th.
[Thanks @toymachinesh, @HeyRiles]